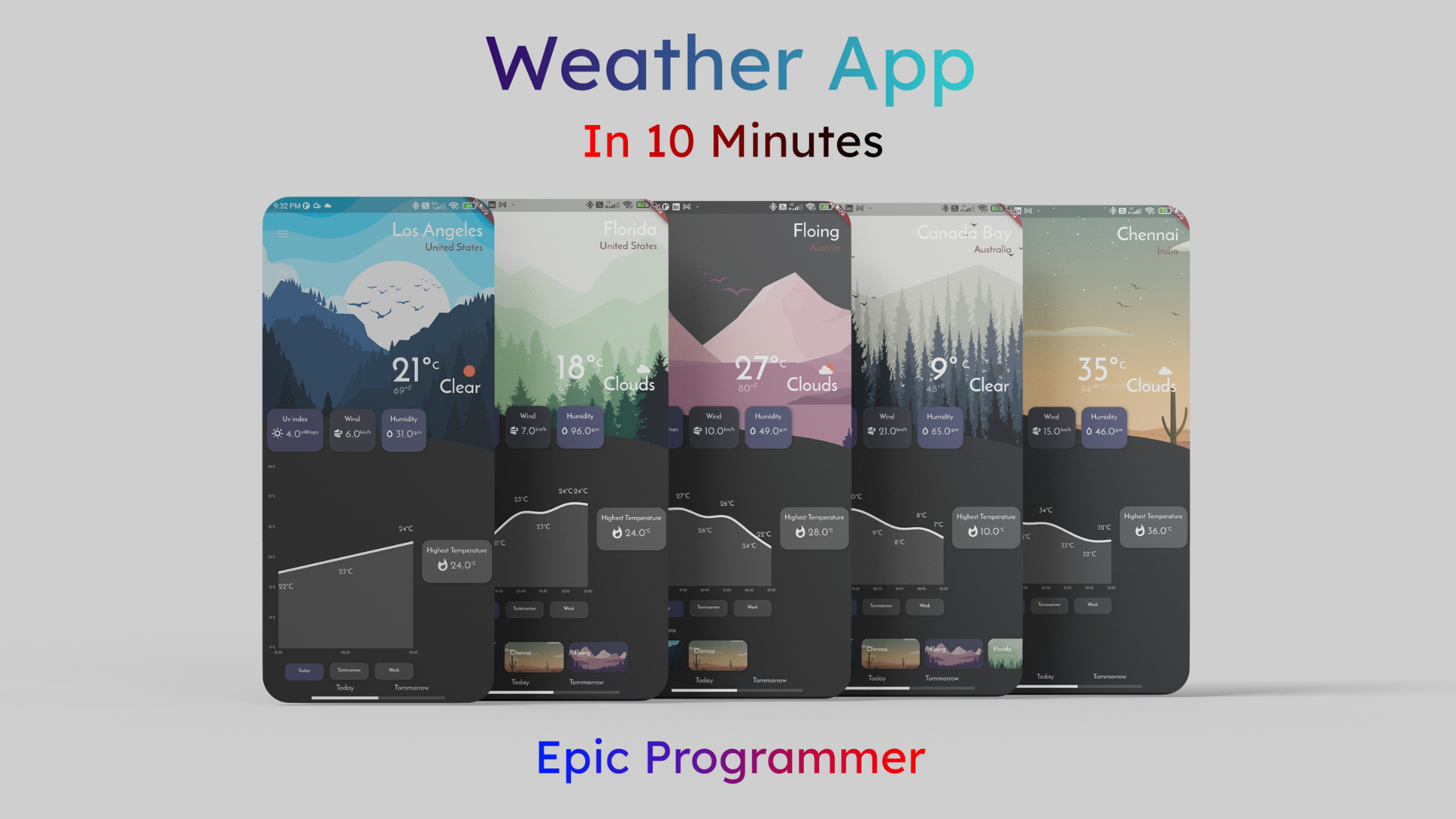 A weather app inspired by the beautiful designs made by Santosh Arron. In this App, you'll be able to find out the live weather data in the current location, hourly weather, and 7-day weather of the device as well as the weather for any city you can think of!
Before long the searchlight discovered some distance away from a schooner with all sails set, apparently the same vessel which had been noticed earlier in the evening. The wind had by this time backed to the east, and there was a shudder amongst the watchers on the cliff as they realized the terrible danger in which she now was. Between her and the port lay the great flat reef on which so many good ships have from time to time suffered, and, with the wind blowing from its present quarter, it would be quite impossible that she should fetch the entrance of the harbor.
What's there in this project
How to use Dart to perform asynchronous tasks.

Async and await.

Futures.

Network with the Dart http package.

OpenWeatherAPI to get weather data using latitude, longitude and city

JSONs and parse them using the Dart convert package.

Pass data forwards and backwards between screens using the Navigator.

Handle exceptions in Dart using try/catch/throw.

Lifecycle of Stateful Widgets and override them.

Geolocator package to get live location data for both iOS and Android.

TextField Widget to take user input.

Spinner to show to user while the data loads.

Day and Night UI colour change dynamically.

ExpansionPanelList view.
Features
Temperature

Feels like temperature

Visibility

Pressure

Max temperature

Wind speed

Humidity

Day/night mode

Search weather by city

Get current weather on clicking on 'place icon'

Hourly Weather Forecast with dynamic temperature, weather icon, and time in horizontal scrolling

Get Autocomplete list of cities as you type using Google Places API

Google Places API for searching city name.

7 Day Weather Forecast
This weather app is one of the best free weather apps with full features: Local weather, weather map (weather map service), and weather widgets.
Forecastle: Forecast now, hourly forecast and daily forecast app Widgets for Android: The weather radar widget free and clock widget weather with beautiful style. Weather map, weather radar map: Local weather radar app free with a lot of radar scope: Rain/snow, temperature, pressure, windy, clouds, humidity, waves, … and storm radar.
It's so easy to receive the weather conditions in your current location.
The weather forecast app provides detailed local forecast & weather forecast worldwide, the app provides the current temperature in Celsius and Fahrenheit, sunrise and sunset time according to city time zone. The weather app also provides atmospheric pressure, weather conditions, visibility distance, relative humidity, precipitation in different unites, dew point, wind speed, and direction, in addition to ten days in future and hourly weather forecast.
Realtime temperature, humidity, pressure, and wind direction are all in the weather app based.
Watch Tutorial Here!
Download Links